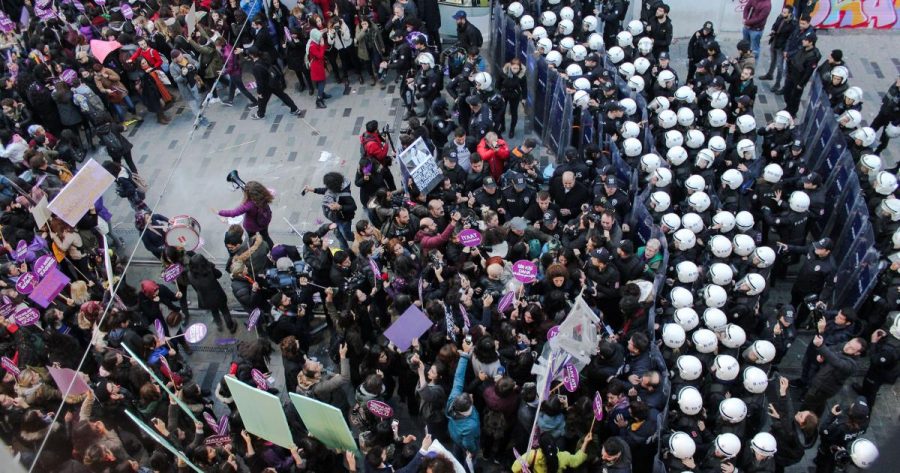 Dilara Şenkaya
Aydin and Blake recently got into contact with an individual from Turkey. As we began to talk, he began to talk about the conflicts in Turkey which varied from a mass inflow of Syrian refugees to the political corruption in the two predominant parties. It was grim to read, but soon enough Aydin and Blake came to realize that it's something that people need to hear about, just as they need to hear about the conflicts in places like Hong Kong or Iran, so we formatted some basic questions and let the source, who wishes to remain anonymous, rant. In this interview, we covered the following: Syrian refugees, corruption in the Turkish government, Turkish economic policy impact on civilians, ISIS militants coming in alongside Syrian refugees, terrorist groups within Turkey, the Kurdish population, and general civil unrest among the Turkish population.
What would you say is the biggest problem in Turkey right now?
The economy and the Syrian 'nomads'. In 2014 one US dollar cost two Turkish liras, but now one US dollar cost approximately six Turkish liras. In 2011, the Syrian War caused a big wave of migration and millions of Syrians entered the country and now, 2019, there are approximately 3.6 million registered Syrian refugees. As a comparison, the Turkish army has 225,000 active military personal which means there is around 11.5 times the number of Syrian refugees to Turkish soldiers which presents a potential security risk. Among the 3.6 million refugees there are a fairly large number of ISIS militants fleeing northern Syria committing crimes throughout Turkey, but mainly in Istanbul where my Uncle lives. There's also a big problem with terrorism, and Kurds are largely being blamed for it.
You mentioned that Kurds are being blamed for the actions of terror groups, could you elaborate?
There is both government oppression and racism towards Kurds for the actions of terror groups like PKK and YPG. I personally know some Kurds, and they're hard-working, generous people. I'd estimate that about 40% of them support terror groups, but this is mainly reactionary towards the state of the country – severe inflation, other groups like ISIS, and untrustworthy government officials.
What about the terror in Turkey?
There are two main groups – the PKK or Kurdistan Workers' Party, which is mainly around the Eastern side of Turkey, and the YPG, which actually translates to 'People's Protection Units', but is actually a terrorist group around the Turkey-Syria border. PKK is attempting to establish a communist state of Kurds through terror, and the YPG is a militant group with the support of the Turkish Democratic Party. Both are primarily composed of ethnic Kurds. He also said there were some ISIS members that were active in Turkey.
So what are the terrorists trying to achieve?
Mainly: vandalism, sabotages, and attacks in an attempt to tear the country apart, but most of all they want to establish a communist terror state.
So what are the people of Turkey doing? You said they were angry but have they done anything major like riots or protests?
The people are responding accordingly with small scale riots and protests, but very rarely some take it to the extreme and perform smaller shootings but none make the news.