Loving Love Nikki
The captivating Chinese dress-up game you should be playing!
Hang on for a minute...we're trying to find some more stories you might like.
Dress up games are just for little girls, right? Well, this highly addictive dress up app known as Love Nikki might have you rethinking that statement. Love Nikki-Dress UP Queen is a Chinese mobile app developed by ELEX Wireless. It is available to download for free on both  Apple and Andriod devices and has over a hundred million players worldwide. When thinking of a dress up game, what comes to most peoples minds is the customization of a virtual doll in order to achieve the desired appearance. While Love Nikki is considered a dress up game, it has a large variety of features that soar way beyond that of your typical dress up game app.
For example, one unique feature is the game's storyline. The story takes place in a fictional land called Miraland which consists of seven nations, each based off of a different fashion style. The player plays as the protagonist Nikki as she embarks on a magical journey through the seven nations of Miraland. So far there are 18 chapters, but new ones are always being added. Each chapter consists of an average of 12 acts where the player competes in dress-up competitions to gain rewards and move on to the next act. There are two levels of difficulty, maiden being the easiest and princess being the more challenging one.
Another one of the apps creative features are the Stylist Associations. Stylist Associations are club-like groups created by fellow players that consist of up to 38 players. When you start the game you can choose which one you would like to be a part of but you are limited to one. Your Stylist Association is kind of like your Love Nikki support system. You can communicate with the members of your association via the bulletin, which is always great if you have any questions or need advice. Being a part of an association also comes with perks such as extra in-game rewards and a secret shop in which you can purchase items for your avatar.  The association also comes with its own storyline in which you can complete for exclusive outfits.
A third wonderful feature of Love Nikki is suits. Essentially suits are themed outfits for your Nikki avatar. The game has hundreds of unique and beautiful suits to collect and new ones are always being added. There are various ways to obtain suits but the most common ways would be to participate in special events and to craft them. To craft suits, you must follow the recipe and obtain the required materials through completing different acts and purchasing them from the different stores throughout the game. Once a suit is completed you will earn the suit's gift box, which contains either specially posed items or diamonds which are the game's form of currency.
My personal favorite feature of the game is events. Events are like mini storylines where you complete certain tasks in order to win exclusive suits. Each event typically lasts for around a week and there are usually a few going on at the same time. Earning event suits are not easy, it takes a lot of time and a fair amount of diamonds but the end result is definitely worth it. Once an event ends the suits associated with that event won't be available for a long time and it's possible they won't ever be again.
The style competition is another great feature I feel you should be informed on. The style competition is a competitive themed styling contest among all the players of the game in which players vote on each other. Basically, there is a theme which changes every few days and players create looks that they feel best matches the theme. Once they have submitted their look other players then vote on which they feel best embodies the theme. Entering in the competition guarantees you a reward which gets better as your score increases.
The final feature I would like to describe for you is the gallery. The gallery is a place where players can create pictures with their Nikki avatar and share them with the rest of the game's players. Players can comment on and like each other's gallery posts. The pictures that receive the most likes are featured on the front page of the gallery. The gallery is a fun way to express and share your style and creativity.
The features that I described above are just a few of the many great features that Love Nikki has to offer. Seeing as it consists of so many intricate and unique features, I feel as if it is directed towards a more mature audience as opposed to that of little girls. Including all of these assets such as the storyline, events, the gallery, stylist associations, suits, and the style competition goes to prove my point that it is more than just your average run of the mill dress up game. So, I hope you will give this game a chance and love Love Nikki as much as I do.

Loading ...
About the Contributors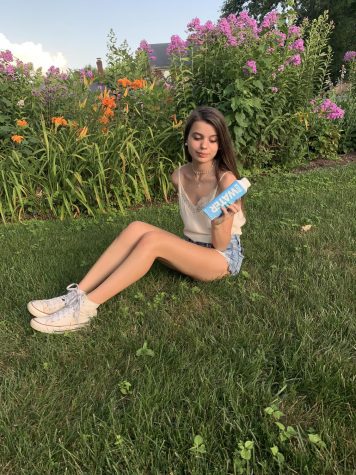 Anna Ward, Staff Reporter
Anna is a junior at Woodford County High School. This is her second year writing for The Jacket Journal. She is ecstatic to better her skills as a journalist....